Text by Marc Graser
Images provided by Brunello Cucinelli
Leaving a mark on future generations is just as important to Brunello Cucinelli as it is for the Italian fashion designer to create beautiful clothing and help people dress well. All you have to do is visit Solomeo to experience that firsthand.
The small village, nestled in the picturesque hillside of central Italy's Umbria region, has been faithfully restored by Cucinelli to celebrate its medieval heritage. With some modern touches, of course.
The once decaying bell tower of the Church of Saint Bartholomew, founded in the 12th-century, rebuilt in the 1700s, and now fully revitalized with an 18th century organ, stands tall over the Piazza della Pace (Square of Peace).
A 14th-century castle now serves as Cucinelli's headquarters and a school that teaches courses on apparel making, tailoring, horticulture, landscaping and masonry.
The Forum of the Arts is meant to honor the Forum in ancient Rome as a welcoming gathering place, and houses a Renaissance-inspired 200-seat theater and amphitheater, a well-manicured garden of cypress trees, rose bushes and flowing fountains, and the Aurelian Neohumanistic Academy, which boasts an impressive collection of classic and historic texts in numerous foreign languages. Cultural events honor the philosophies of Plato and Artistotle.
A winery features sweeping views of the vineyard and sprawling countryside below. A monument to human dignity is made of an arcade of five graphic travertine marble arches that represent the world, with the structure built according to ancient techniques to insure its preservation for centuries.
The entire effort has been a labor of love for Cucinelli since 1985. What's old is new now. Just don't think of it as an Italian theme park.
What could easily sound like the plaything of a man who's built a fortune but doesn't know how to spend it is actually an honorable effort to build a community that seeks to protect a cultural history that could otherwise disappear.
Urbanization and a tough economy have turned many of Italy's smaller villages into ghost towns. Cucinelli didn't want to see that happen to Solomeo, which is 30 minutes from where he was born in Castel Rigone.
Here we live and work in a place that we hope to have improved for future generations, and we have hopefully improved the experience of the people who work with us.

Brunello Cucinelli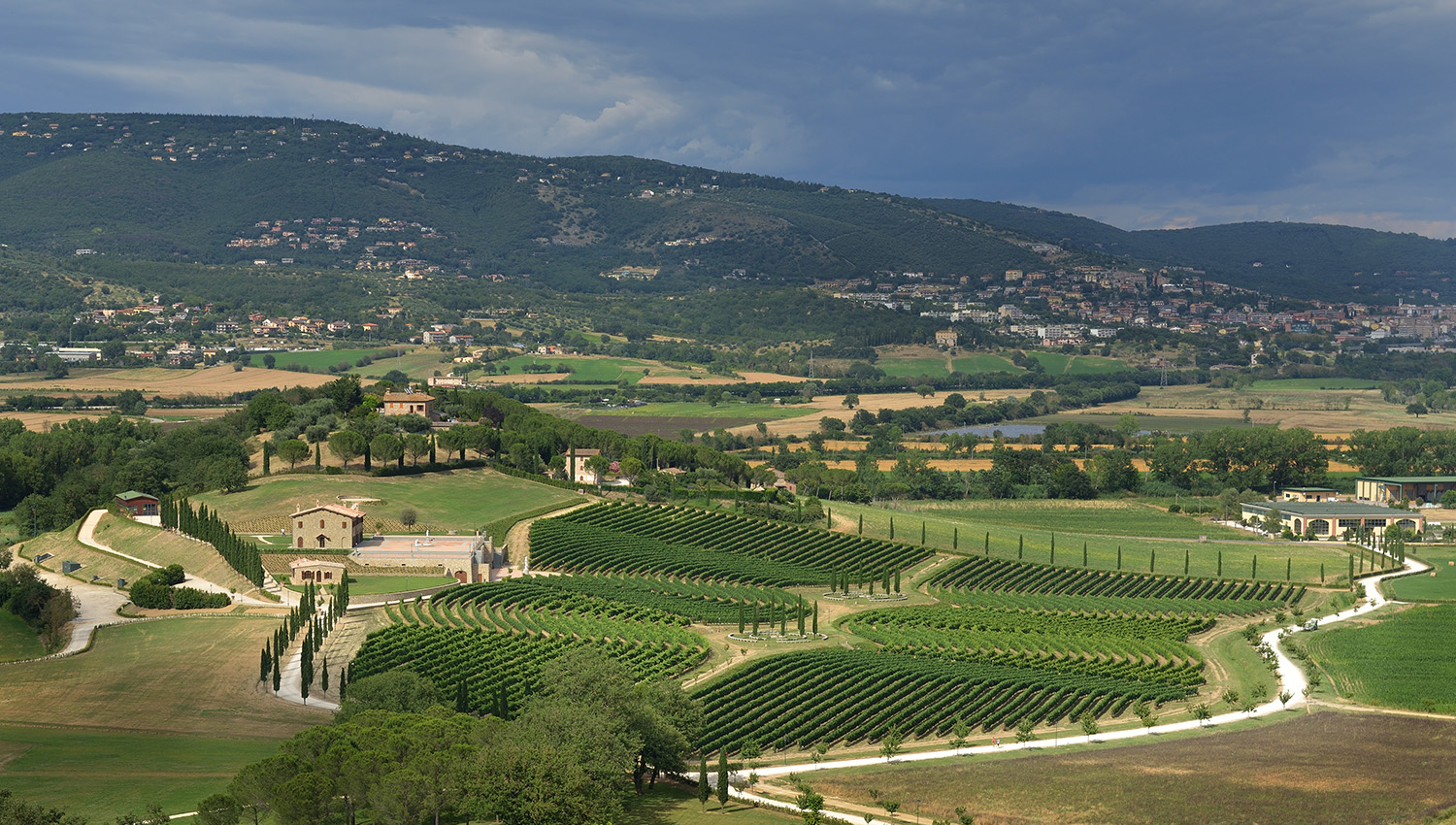 Solomeo is part of a brand that Cucinelli, who at 66 years old, has evolved into what he calls a humanistic enterprise that brings moral dignity back to artisans and craftsmanship. A philosopher himself, Cucinelli embraces sustainable fashion, and more recently, a new kind of capitalism that seeks out "harmony between profit and giving back."
That includes taking care of the company's 2,024 employees, none of who were laid off during the pandemic.
"Italy is made up of many good people, proud men and women who know how to be supportive and close at times of hardship," Cucinelli says.
"To restore the dignity that belongs to work and mankind: this is the dream which the hamlet of Solomeo has always yearned to fulfill," Cucinelli adds. "Here we live and work in a place that we hope to have improved for future generations, and we have hopefully improved the experience of the people who work with us. We are surrounded by nature and the beat of time is not as fast as it might be in other places in the world. Here the church bells ring every 15 minutes, and this fascinates us every day. If I didn't have to leave for business, I would gladly stay here all the time."
The restoration of Solomeo is personal in another way. The village is where Cucinelli met his wife, Federica, and the two started dreaming about their company, founded in 1978.
"It is my home," he says. "It was crucial to me to maintain our roots, heritage and culture where our ancestors lived so future generations can carry on its beauty. I feel most inspired when I am surrounded by my beautiful Umbria and especially when I'm in my beloved Solomeo; its colors, smells, tastes, sounds, landscape, and people in this region move my soul. I have spent my whole life here, and it is where I feel most grounded. Each season continues to bring me new perspectives, new air, and new life."
Solomeo is 20 minutes from Umbria's capital of Perugia, in the heart of Italy's Cashmere Valley. It's home to 500 companies in neighboring towns like Magione, which overlooks Lake Trasimeno, Giano dell'Umbria, Torgiano, and Terni, further south, that specialize in turning wool into what's normally an extremely soft and neutral-toned textile.
Never a traditionalist, Solomeo is home to Brunello Cucinelli's luxury Italian fashion empire where his brightly dyed cashmere is produced by 1,000 artisans who work in a town that's home to just a few hundred residents. Factory tours are available to visitors, but not promoted.
Those looking to visit Solomeo will find a number of charming villas and hotels to book, including Sina Brufani, Relais dell'Olmo and Relais Casamassima, surrounded by vineyards and scenic views.
During a visit to Umbria, Cucinelli recommends exploring the small village of Castelluccio di Norcia, where during May through the beginning of July, the flat basin erupts in a mosaic of blossoming violets, poppies, lentils and clover, creating a tapestry of yellows, reds, violet and white that stretches out toward the base of the surrounding Sibillini Mountains.
The region's natural beauty has long inspired Cucinelli's products. "I am constantly moved by the colors, materials, details, patterns, and textures of Umbria. Each season, the color of the leaves change, the wheat grows, new flowers blossom. There is inspiration every day in many details that we may have not have noticed the year before or perhaps I see them differently."
Like a proud parent, Cucinelli finds it hard to single out any one project to favor over another in Solomeo.
"I am fond of every single stone, and every single memory it brings with it," he says. "Today, Solomeo is 'the hamlet of the spirit,' and I like to think that we have restored this place to its original beauty."