Text by Eric Stinton
Images by Jeff Hawe and John Hook
Jonathan Swanz' attraction to glass blowing had little to do with the alluring glow of the furnace.
"There was an attraction to fire, don't think there wasn't," the O'ahu artist says. "But initially what was so seductive was that I wasn't working with just my hands. The whole body is engaged."
When you see Swanz in person, you might mistake him for a different kind of artist. His sinewy musculature and casual facial stubble suggest the aged experience and youthful energy of a lead guitarist in a rock band.
"People ask me if I'm a musician," he admits, to which he playfully responds that he's actually a dancer. Indeed, the manipulation of molten glass involves choreographed movements and patterns that resemble dance.
Movement is integral to Swanz' creative process as well as his final products. His two most recent collections, called Tropical Abstract and Vibrant Matter, teem with kinesis. Tropical Abstract is a lively representation of Hawaiian life, including vividly-colored depictions of pufferfish, wrasses and tobies.
Using a technique called incalmo, every fish is composed of separate pieces of glass fused together, with distinct texture on each individual component to give the impression of gliding in ocean currents.
Vibrant Matter captures the spontaneity and diversity through which physical form emerges in nature, manipulating the motion of light through irregular shapes. Reflective silvered globs coalesce like the cells of a shattered Terminator; a transparent bubble rises from primordial darkness.
My art is about captivating raw energy.

JONATHAN SWANZ
Swanz has been working in a friend's studio in Kentucky through the early months of 2021. Custom-made light bulbs hang above rows of restless furnaces while the sounds of Afrobeat, rock, and jazz echo across wide open floorspace, large enough to comfortably fit himself and his assistants maneuvering around him.
Since he moved to Hawai'i in 2010, Swanz has made yearly trips to Kentucky where materials are cheaper and more accessible (there are no studios in Hawai'i with the space and equipment needed for such intensive use).
Watching him work, it's easy to see why he describes the craft in balletic terms. He moves to a rhythm with the same focused intensity, effortless precision, and graceful control as a Vaganova virtuoso. Blown glass, like ballet, is visual beauty forged from high-stakes, rigorous labor.
"You can't refix blown glass," he says. "If it's not good, you break it and do it again."
Swanz has also taught another generation of local Hawai'i artists as a lecturer at UH Mānoa.
"I'm a firekeeper of heritage that goes back to 50 BC," he says.
The artform, he explains, was invented during the Roman Empire, a lineage embodied in every piece of blown glass, whether a simple cup or an elaborate work of art.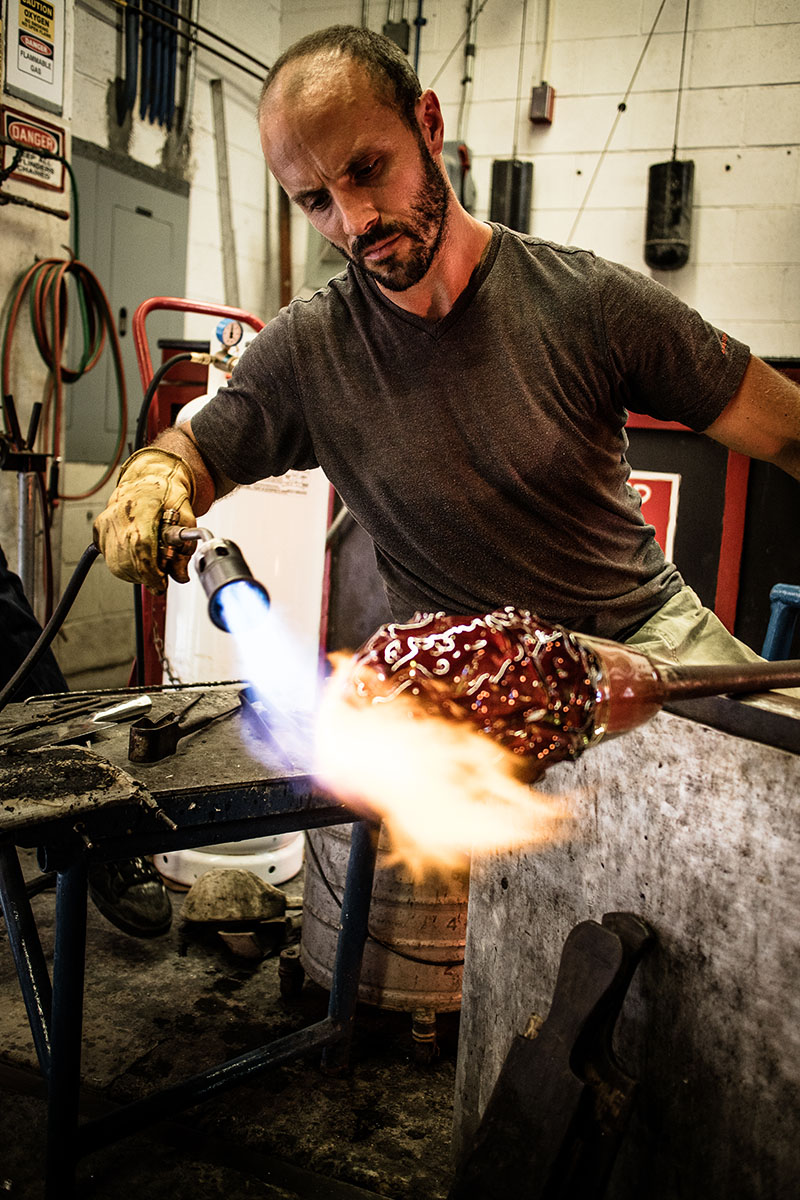 "I learned from my teachers who learned from their teachers who learned from their teachers," he says. "All of that intelligence has been transmitted through generations and cultures and people, and it trickles down. There's strain in that, but it's the kind of strain that calls you to your highest level of performance."
Swanz is a master of glass blowing, a medium he discovered by chance. His first exposure to fine arts happened near the end of high school when his girlfriend took a ceramics class and prompted him to join her.
"There was an immediate embodied connection," he says, one that compelled the otherwise studious mathlete to skip class to work in the studio.
But his nascent love of ceramics was not enough to pull him away from full ride scholarship offers to study engineering. That is until an open house visit for scholarship students and he asked about the school's ceramics classes.
"Everyone in the room laughed at me," he says. "At that moment I decided I didn't want to be an engineer."
Instead, he sent a late application to what is now his alma mater, Centre College in Kentucky, because of its glass blowing program.
"I figured if ceramics is this fun, glass has to be next level," he says.
In college, Swanz vacationed to Moloka'i and was inspired by its physical beauty and spiritual life force.
"I went snorkeling and was blown away," he says.
He started drawing sketches of the fish he saw. But with only a year of experience in blowing glass he hadn't yet developed the skills to transfer them to sculpture.
Ten years later, however, after working under Scandinavian and Italian masters in New York and Paris, he returned to the islands as a graduate student at the University of Hawai'i at Mānoa to continue his craft. Those reef fish from his initial visit are now part of his Tropical Abstract collection.
"My art is about captivating raw energy," he says. "Hawai'i has such a visceral, elemental energy that's always around: the ocean, lava making new earth, the vibrancy of the jungle. Everything feels so alive here."